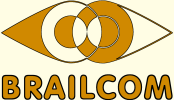 Service provider for blind and visually impaired in the fields of
INTERNET, ELECTRONIC PUBLISHING, HARDWARE AND SOFTWARE
The primary goal of the organization is helping blind and visually impaired people in their access to information technologies. These activities are non-profit and all products and services are offered to our handicaped clients completely free of charge.
We are financing our projects from different grants, donations and by our own commercial activities.
You can also help by making use of our services in the field of custom software development. All the income generated by our commercial activities is used to support the projects for blind and visually impaired people. Learn more about what we can do in our profile.